Word Game 2 review
Word Game 2 is a sequel of a popular word puzzle game by Funqai Ltd. In this game, you can make up words using only the given letters. It may look simple on first sight, but you can't imagine how many words may be hidden within several letters! Word Game 2 includes a huge vocabulary and unique gameplay mechanics. You can download it exclusively for Android smartphones and tablets on Google Play for free.
Storyline 9/10
Word Game 2 includes hundreds of exciting word puzzle levels. At the beginning of each level, you are given 7 random letters and a particular amount of time on the stopwatch. Your mission is to guess all the words before the time runs out. The shorter time you show, the higher the score you get. There's no end to perfection, which means that you can hone your skills and try to get better results later. The vocabulary includes thousands of words that relate to the common everyday speech and various narrow terms. But don't worry, you can guess them all if you train your memory well enough while playing.
The basic lists were created by developers. Al other word packs are kindly provided by the real word tournament organizations, including the international CSW19 list, and the ORCWL 2018 list. Word Game 2 is still available in English only, but you can switch between the American and British spelling in settings to make it more comfortable for your knowledge. We also find Word Game 2 a perfect spelling and vocabulary training for people who learn Engish, independently from their current level.
The gameplay of Word Game 2 is rather different from everything that we've reviewed before. You can not only create words using the letters, but also shuffle them to get a clue upon the next words, sort them, and use a limited number of free hints to guess the unknown words. You can earn as many as 50 hints for completing levels, but we recommend you keep them for the harder levels. Otherwise, you can purchase them for real money. If you manage to make up several words in a row without mistakes, you have a chance to activate the Lock Timer option and freeze time until the end of the level.
Graphics and Sound 8/10
The design of the interface in Word Game 2 leaves much to be desired. It looks very oldfashioned, so it feels like playing a game for Android 2.3. On the other hand, it performs flawlessly and provides convenient controls over the game. All buttons are big enough even for the smallest devices, and it's always clear what is what.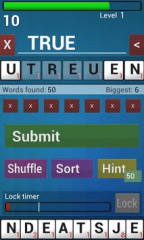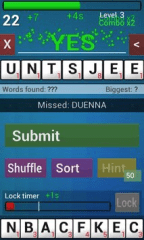 Related games