Sudoku: Andoku 3 Free review
Andoku Sudoku 3 Free is a logic-based Sudoku game based on the number of puzzles. It is developed for mobile devices and can be easily played. It provides diverse puzzles with detailed instructions explaining what should be done. The levels of difficulty vary that is why the game will be interesting for both beginners and experts. Even if you have never played it before, just start it and within no time it will become your favorite mobile game.
Storyline 10/10
This is a popular Japanese game where the logical placement of numbers does matter. It does not require any calculation or mathematics skills. Here you should concentrate on the requirements and perform the task. Sudoku is an excellent brain trainer. If you play it every day, you will improve your overall brain power. The ability to concentrate attention is among other bonuses.
There are variants of Sudoku game but in general, the objective is to fill a grid consisting of 9 cells in the vertical direction and 9 cells in the horizontal direction with digits in accordance with the particular rules. You should compose the so-called regions, blocks, and boxes.
Usually, you get a partially completed grid to perform the task. There is a single right solution. The numerous variations have either additional regions where you find the digits from 1 to 9 appearing only one time. Also, there are games with non-square areas instead of usual blocks.
You can play this title conveniently applying the auto-save option. There are a lot of assistance functions. For instance, you can undo and redo your moves as often as you want. It is possible to enter notes and your own Sudoku puzzles which you can find in your local newspaper, for instance. The title has the built-in editor which will help you to avoid the mistakes when you entering such puzzle.
When you solve all the puzzles, you will level up. But it is possible to choose one of nine difficulty levels in no particular order. Train your brain and apply your logical reasoning. You can look through the game statistics to check out your results and benefit from the cloud synchronization provided by the game. You can save your game at the current moment in the cloud and continue running it on any other mobile device.
There is a nice tutorial that is available right in the game. You can read the basic rules which are really simple. But the solving techniques are difficult depending on the level. And you will learn about some of them in this tutorial. The techniques are arranged by categories like Tricky, Hard, Very Hard, and more.
Graphics and Sound 10/10
The graphics are very simple. You will see the pure grid on your screen without colorful backgrounds or any other decorative elements. There are digits and tools placed below. The menu is clear providing intuitive navigation.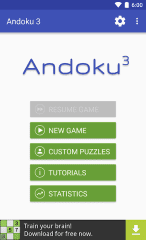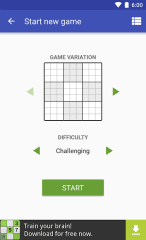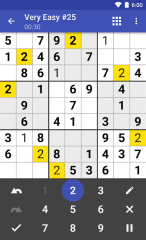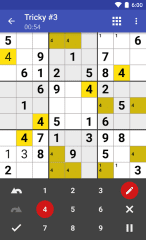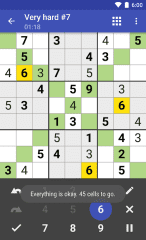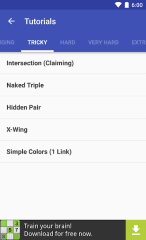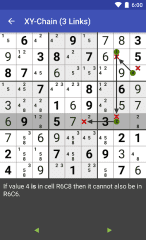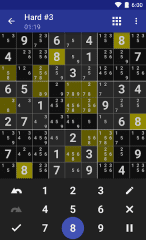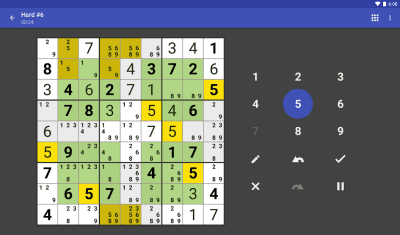 Related games