Would You Rather? review
Would You Rather is a fun and addictive game where you have to choose between two not very difficult scenarios answering the questions. Do you feel confident enough to win this game? Then, you should not waste your time and invite your friends to start playing! When you are involved, you will feel curiosity for all the editions and questions which are added from time to time. But you should know that answering is the only goal here and there are no other reasons to be engaged.
Storyline 10/10
Launching the title, you will get the task to make the choice between two items. It seems that they are equally attractive or horrible but still you should opt for one of them. When you make up mind, you will be told the number of players taking the same decision in terms of percentage points. There are rounds consisting of ten questions each and you can play them as many times as you want. Of course, you can meet the same items but the developer insists that there are over 600 questions that is why I'd say that replayability is rather high.
All those choices are connected with various themes. You are suggested to decide which one should be applied in the game. Choose the editions like Harry Potter or Disney one and enjoy the subject. Also, you can benefit from seasonal edition dedicated to the particular holidays. There is the broadest standard edition. I would say that almost all of them are equally full of fun.
There is an 'offline' multi-player mode where up to four players can take part. Invite your friends to play and get ready to make choices in turns. This mode consists of rounds providing each player with 10 questions. Play without the need in the Internet connection or WiFi. You can enter anonymously and in this case, it will be difficult to understand the winner using a leaderboard.
The game has a lot of useful features. For instance, you are able to leave your voice for your favorite option. There are the statistics showing which one is more popular and you can view it in the real time. Be sure that you will get the new content with the frequent updates. You are allowed to submit your own questions and they will be added to the existing list. Ensure that they are family friendly because here you will not find any adult contain or rough language. The game is moderated by Alexa giving you rather detailed comments if something is done wrong.
Graphics and Sound 10/10
The graphics are well-done with the user-friendly interface and uncluttered layout. The moderation is complemented by the splendid sound effects. You can hear the audience clapping when you make the right choice.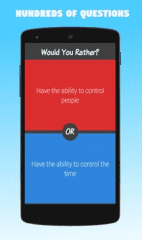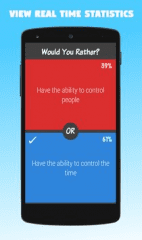 Related games