Crosswords review
Crosswords Free is an attention puzzle game which will not allow you to get bored anymore. It is one of the best ways to spend your spare time or wait for some event being engaged in smart entertainment. Almost everyone likes to solve complicated crossword puzzles, especially if they are available on the mobile devices. Download this app, and you will have it at your fingertips at any moment. You will keep your mind sharp and master your skills to solve problems. This game is able to test your knowledge of general trivia. If you are a crossword enthusiast, this app will provide you with real fun.
Storyline 10/10
The Crosswords is a word puzzle game which you expect to see. It is arranged in the traditional way. There is a square or rectangular grid on the screen where you are expected to place various letters in order to form the words or phrases. There are clues which describe the word and help to solve the puzzle. The squares can be white and shaded. The former should be filled with letters while the latter just separate the words from each other.
The application offers 2186 puzzles, 3 difficulty levels, and 9 languages. This title has a diverse offer of meeting everybody's requirements. There are simple crosswords for beginners and the complicated ones which can bring to a stand. You can save your results at any level and check the statistics showing the number of your correct answers on a percentage basis.
It is possible to zoom into the answer fields and enter the letters using the keypad. If you are mistaken, you will know it at once, because the app will tell about it. Do not stop, just continue playing and enjoy this brain trainer as long as you like. There is a hint option showing you the clues when you are in despair. Also, there is the feature showing the correct answer. It can be activated or deactivated as you want.
Graphics and Sound 9/10
This crossword title has a well-done interface which is very user-friendly. The design is made in green and grey colors pleasing eyes. You will get a smooth experience as you try to solve the puzzles it delivers. The puzzles fit on the entire screen without the need in scrolling down or zooming in. Also, you have the settings allowing to choose the language and difficulty level skipping the puzzles which are too challenging for you. Thus, it is good both for a beginner and an expert. The game has loud-sounding and that can be annoying as far as you will not be able to switch it off.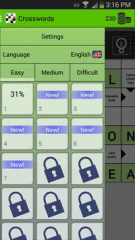 Related games