Lightbot : Code Hour review
Lightbot : Code Hour is a mobile visual coding simulator by SpriteBox LLC, the studio that made such excellent puzzles as Overlink and SpriteBox. Lightbot is an easy way to introduce your child to the basics of programming languages. This programming puzzle is based on general coding principles that are expressed through exciting games. Lightbot : Code Hour is available for free on Google Play and the App Store. It's also playable in web browsers.
Storyline 10/10
Lightbot : Code Hour is aimed at developing logic and the ability to put several actions in correct sequences to get the result. Developers made it for young children, but it's so exciting that many of us in the office decided to complete it too. All levels have a different difficulty level and involve from one to several mechanics at the same time. It means that you can learn how to code step by step.
Your goal in Lightbot : Code Hour is to control a small robot and take it through mazes to switch on the lights on the way. To make it move correctly, you have to build sequences of tasks using visual coding blocks. They have pictures on them that symbolize a particular command, such as jump turn around, walk, and switch the lightbulb on.
There are 2 versions of Lightbot : Code Hour. The free Lite edition provides 20 levels that took us around 2 hours to complete. The full version with 50 levels will cost you $2.99 and give a lot more coding challenges with new exciting commands. While playing, you will learn such programming concepts, as loops, branches, and procedures. These concepts work in absolutely any programming language.
Lightbot : Code Hour was tested by our colleagues from US coding camps. Teachers use this game to introduce children to the underlying logic and explain the real nature and purposes of coding. They report that kids do better understand more complex sections of the course if they start from Lightbot : Code Hour. If you run such a business, you can request unique themed levels with particular details and mechanics.
Graphics and Sound 9/10
Lightbot : Code Hour is a minimalistic graphic adventure. All levels are build of several blocks that let you count the number of moves. All yellow blocks mark the places on which you have to switch on the light. There can be several yellow blocks on the map so that you have to put the switchers in the correct order. Controls are quite simple. You just have to drag commands into the Main field where they will be activated. Using the skip button in the top left corner, you can speed up the tempo of events and look at how the Lightbot will cope with tasks on high speed.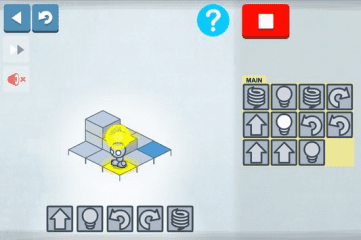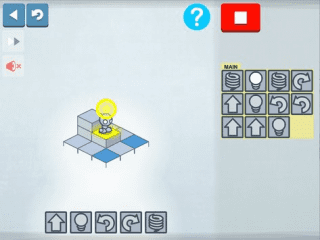 Related games