Bingo review
The classic Italian Bingo is not as casual and colorful as it is in the US, but it's very addictive anyway. Bingo by VolgaApps is a digital version of the old lotto Bingo that used to be played with paper cards and small wooden kegs with numbers on both sides. Download Bingo by VolgaApps on Google Play and challenge your luck!
Storyline 8/10
The Bingo game offers you to experience a realistic simulation of a classic board game. It was initially invented in Italy around 5 hundred years ago. 300 years later it became popular amongst rich Russian people, and only in the 20th century, it became common worldwide. The most famous western version of the lotto game is called Bingo. There are hundreds of modern Bingo apps, but this classic Bingo seems to be a unique installment.
The rules of the game are rather simple. At the beginning of the round, you receive 3 random cards with 15 random numbers on them. Each card has 3 raws and 5 digits in each raw. Your goal is to capture all numbers on the field of 3 cards earlier than your opponents do it. This particular version of the game features 3 players, including you, and 2 online or computer-emulated players.
You have to make moves in laps. When your turn comes, you receive a random number from the sack and have to place it if there is a corresponding number. Unlike the physical game, here you won't come across the same cards as they're always generated randomly as well as the barrel number from the sack. As you can see, the only thing that matters in the game is your luck. You can choose from 2 modes. In the first, you have to match all cells on one of your cards. The second mode is much shorter and requires you to match at least 5 numbers of a single raw on any card.
Graphics and Sound 8/10
Bingo by VolgaApps doesn't have a soundtrack. However, I tried to play it with the Play Music app on, and it worked perfectly well. The game is supported by Android 4.4 and higher that supports multitasking. It has a neat interface that sends us back to the times when the lotto game came to Russia. The buttons of the main menu are made of azure handwritten commands. The entire game goes with the same white background that looks quite good. Unfortunately, there's no option to set custom wallpapers or change the white theme to the dark one. Nevertheless, it feels ok when you play.
The gameplay doesn't offer any special visual effects. Everything that changes here is numbers and the progress on your field and fields of your opponents. You can tap the cards of others to look at them closer and evaluate your chances to win.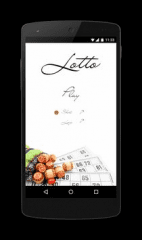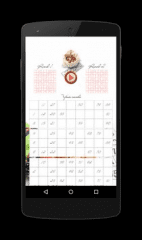 Related games