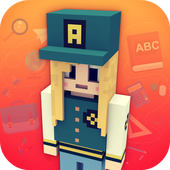 High School Girls Craft: Story
Author:
Crafting And Building Games For Girls Adventure
Regenerate-now.com is not an official representative or the developer of this application. Copyrighted materials belong to their respective owners
High School Girls Craft: Story review
High school girls story! Create your own love tale! Have a boyfriend, build, explore! Be the top girl at school! Have a BFF, become a prom queen! The best high school games for girls! Date your crush! Have a high school romance! Creative game for girls. Building, exploration lite, craft, mine for girls! Be a princess of the prom! Build a nail salon, spa, hair dresser salon or pet shop! Be fabulous! Let other girls be jealous of your new boyfriend with a sports car. Crafting and building game for girls. Creativity, high school story romance and an infinite world! All in one game for girls! craft, mine & create! Design the blocky classroom, make the school of your dreams! Become an interior designer, a fashion girl. Make your dreams come true! Pocket edtion of a famous crafting game in the high school environment. So make new friends at school, be the famous high school top girl! Build, create - make your own high school story! Build your home with cubes. Design interior, build and design a kitchen - start cooking! Build a whole city with a SPA, Nail Salon, Pet Shop, Make-up & beauty salon! No princess dolls for little girls! No cute animals for babies! Serious pocket game for serious girls! Build your own shopping mall and take part in a fashion show! Wear high heels shoes and explore randomly generated cube worlds, build and create amazing & perfect structures from the simplest of homes to the grandest of cube fortresses and castles! Create your pink kingdom! Use pink - girlish - blocks to build beautiful pink and colorful structures. The best creative adventure game for girls! Go beyond your wildest dreams, make your own cube blocky house, mine castle or kingdom! Transform the surface in a 3D environment. Build a shelter, fight, grow, the only limit is your imagination! Start a cube craft! Build a SPA, Beauty Salon, Hair Salon and Pet Shop! High School Girls Craft: Story is the next game provided by Building and Crafting Games for Girls Adventure, enjoy the great exploration experience!

UPCOMING FEATURES:
Multiplayer (multicraft)
Crafting items
Building craft mode
World Craft Story
Skyblock free mode
Cute Story mode (Little Pony Quest!)
Survival exploration lite mode
Cube blocky craft mode

Interested in other crafting and building free games? See our other games for girls and boys!
Unfortunately, professional review of the High School Girls Craft: Story app is not yet ready. This app is on the list and will be reviewed in the nearest feature. Meanwhile, you can find more from the official description below.
If you have something to say about this app and make own review - write us. We are looking for talented app critics!
Become a critic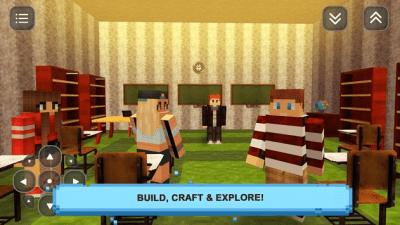 High School Girls Craft: Story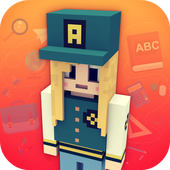 Related games