Draw a Stickman: Sketchbook review
Draw a Stickman: Sketchbook is a full-value spin-off title based on the popular Draw a Stickman: EPIC 2 game. It's a creative world in which nothing can limit your imagination. Draw characters and objects that you want them to carry and use. Draw a Stickman: Sketchbook is a game that you can create and customize them with your hands! To download it, visit Google Play on Android devices, or the App Store on iOS.
Storyline 9/10
Draw a Stickman: Sketchbook allows you to explore boundless worlds inspired by the Draw a Stickman: EPIC 2 game. It complements the original story with new locations and exciting missions. Due to the full freedom of creation, you can draw absolutely anything that comes into your mind and bring those doodles to life. This time you're offered to master several new unique instruments. Your stickman has slots for swords, pickaxes, and other tools. You can tap each slot and assign a new look to every tool. All interactions with the environment of Draw a Stickman: Sketchbook depends on objects that you draw. Their characteristics are basic, but you can experiment with appearances, using the updated studio. It includes more brushes and an extended color palette.
Typically for the series, all drawings look rather sketchy. We tried to play on an iPad with Apple Pencil on, but it didn't change the situation a lot. Though it became much easier to draw straight lines, the same level of control can be obtained with the stylus on Samsung Galaxy Note 2 and later devices.
The gameplay revolves around the exploration of the magical land. There are dozens of hidden treasures and other surprises. There are many clues that point at them, so you have to be very attentive not to lose one. At the end of every level, you will see how many secrets remain there. You can return to the level anytime and try to find the rest.
Graphics and Sound 9/10
The world of Draw a Stickman: Sketchbook consists of small islands on a large white canvas. You can explore it in any direction. When you go somewhere, the parts of the land appear on your way, revealing new objects for interactions. It's also important to understand that Draw a Stickman: Sketchbook is more focused on working as a companion app to the original EPIC 2 game. All objects and characters that you draw in Draw a Stickman: Sketchbook are transferrable into EPIC 2.
The soundtrack of Draw a Stickman: Sketchbook features a playful marimba melody and different sounds of the environment. Every interaction is followed by a sound that perfectly matches the action.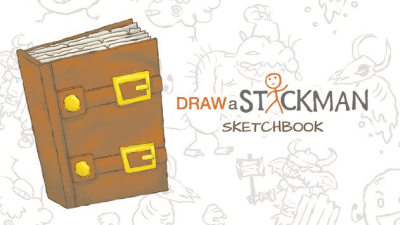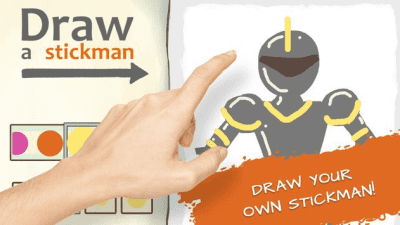 Related games